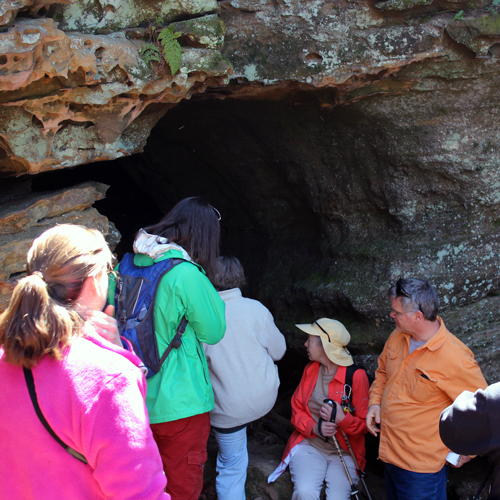 At High Rock Adventures/Hocking Hills Ecotours besides making sure our guests have a fun and exciting tour, we really want our guests to learn a few things about the beautiful  ecosystem around them.  It's not a boring lecture or just facts, we try to connect our guest with the surrounding nature.  On most of our Eco-Adventures our guests may be exposed to about 5 or 6 plants, trees, rocks, minerals, etc. in addition to Rappelling, Rock Climbing, or taking a Rock Challenge.  On our Ecotours such as the Natural High EcoTour or our New Edible and Medicinal Forest EcoTour the nature around you will be the focus of your tour.  We will taste, smell, and/or observe dozens of plants and trees, discuss regional history, geology, local animals, insects, amphibians, and more.  
All of our tours are guided and unless you come with a large family group or group that has to stay together, your group size will be small, typically 10 or less. Some tours we need to split into even smaller groups.  The ecosystem at High Rock is pristine and fragile in some areas; where other areas, like on our climbing and rappelling rocks, it is well – solid and sturdy.  As you tour, we will explain why some of areas of High Rock are just for pictures and viewing; while others are hands-on, and knees-on, and feet, and many other parts of your body if you are in a tight squeeze, for example.  
In all we do, we practice leave no trace ethics. We sometimes alter trails around fallen trees so they can decompose naturally. We purposely choose to build trails on old deer trails because they are already there and used by our forest friends.  Our trails are narrow and follow contours of the land so they don't really stand out or cause much erosion. In pictures you hardly notice a trail is there. As a matter of a fact, adventurers to High Rock always want picture of the beautiful rock formations and surrounding forest, typically with them in it. We believe our forest should look as beautiful as it did when we first found it and it really does.  As an ecotour company High Rock does many things behind the scenes to keep our forest ecosystem protected.  Expect on every tour that we will share some of the things you can do on your tour to help us.  When you take and Eco Adventure or Ecotour with us expect to learn new things, see some things from a different perspective, and of course have fun while doing it.