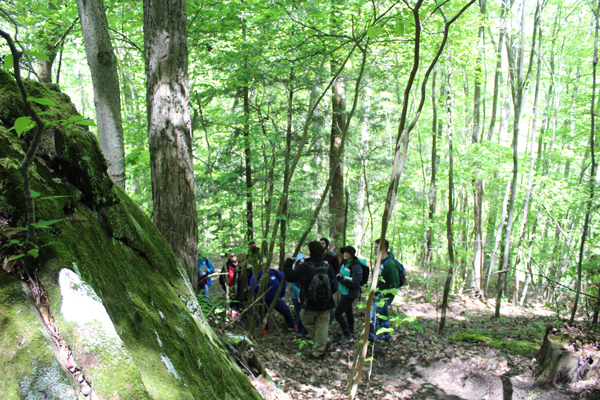 Hocking Hills Ecotours-High Rock Adventures is excited to announce a new, highly requested ecotour, the Edible and Medicinal Forest Ecotour. This tour is designed primarily for Adults and Children 12 and up. Adults and Children that have a keen interest in Nature Education, specifically in the areas of plant, tree, and some fungi identification and many of their uses. The tour length, on average will be 3 hours. The tour will typically cover 20+ plants and trees common to Hocking Hills and Appalachian Forests.
While on this educational and hands-on tour, you will get to see several common and very beneficial plants, several referred to as weeds. These plants like Plantain, Dandelion, and others typically grow in most yards and along various "edges" throughout the state. This tour will incorporate "viewing" and identifying "unique characteristics". In several cases we will be using "touch" and "smell" to add levels to our memory. In some cases "taste" of the plants and/or trees will also be part of the experience. This tour will also feature a plant of the season, so while you are on the tour, you will be get to try a home-made tea or treat from the featured plant. Our guide will also recommend several plants that are easy to find or grow that you can use to make your own teas and/or herbal remedies at home.
This is the only tour at High Rock that does not offer a child's discount. We will accept children under 12 if they have a good attention span and are interested in the subject. Typically children and youth will enjoy our Natural High Tour more as it also includes a few of our rock challenges along with nature education. If your child would rather be active and "doing" things then the Natural High Tour or even better the High Rock Challenge Tour, Rock Climbing, or Rappelling are all geared to be full of Adventure.
Plan to spend a morning or afternoon with us at High Rock and "dig" deeper into this unique and beneficial topic of Edible and Medicinal plants. The plants and their uses will vary by the season. In the Springtime (Late March-May) we tend to have the most Ephemerals. Plants like Bloodroot have a very short window of appearance and store medicinal properties in their roots. Evergreen species like American Wintergreen, we typically find all year round. Several plants and trees fall into the category in between and are available most of the growing season. Many of the medicinal yard and garden plants can be found all summer long typically late April through September or October. We can arrange customized Edible & Medicinal tours if a group (minimum 7) would like an even more in-depth day-long tour at our sister property in Cool Rock Valley.
We also plan to offer 1 or 2 workshops in 2018 on Sustainable Harvesting and preparation of edible and medicinal forest plants, herbs, and a few of the more common fungi species. Watch for announcements of these on our Facebook and Instagram sites. We are very excited about the upcoming 2018 season and look forward to welcoming you to High Rock Adventures-Hocking Hills Ecotours in the near future.